Marathon Read 2018: Pages from 1968
September 13, 2018 | 10:00 am
- September 13, 2018 | 10:00 pm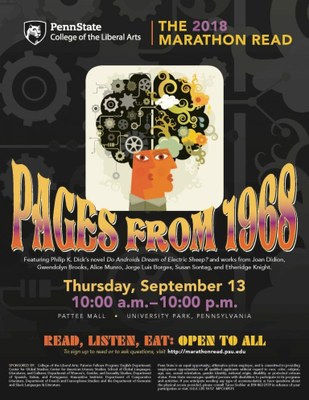 This year the Marathon Read joins in the commemoration of 50 years since the watershed year of 1968. The Marathon Read will feature texts written or published in 1968, including Philip K. Dick's novel Do Androids Dream of Electric Sheep? and works from Joan Didion, Gwendolyn Brooks, Alice Munro, Jorge Luis Borges, Susan Sontag, Galway Kinnell, and others.
The 2018 Marathon Read will occur on September 13 from 10am to 10pm on the Pattee Mall. Stop by for special guest readers, food, and to hear great writing from 1968.
All are welcome to read and listen. If you are interested in reading, sign up by visiting marathonread.psu.edu.