Previous CALS Summer Graduate Fellows
Justus Peña Berman
The 2021 CALS Summer Graduate Fellow was Justus Peña Berman, for his dissertation titled Technoracialization: Race, Technology, and Media in Contemporary Latinx and Asian American Literature, directed by Tina Chen.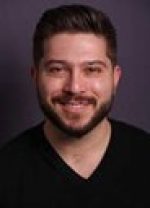 Yi-Ting Chang
The 2020 CALS Summer Graduate Fellow was Yi-Ting Chang, for her dissertation titled "Independence's Others: Decolonial Taiwan in the Transpacific."

Sean Weidman
The 2019 CALS Summer Graduate Fellow was Sean Weidman, for his dissertation titled "Modernist Hospitalities: Modern Culture and the Politics of Welcoming after Empire."

Patrick Allen
The 2018 CALS Summer Graduate Fellow was Patrick Allen, for his dissertation titled "A Practice of Print: Race, Doctoring, and Medicine in Post-Bellum, Pre-Harlem Black Print Culture."
Jace Gatzemeyer
The 2017 CALS Summer Graduate Fellow was Jace Gatzemeyer for his dissertation "These United States: Modernism and the Regionalist Imagination in American Literature, 1914-1945."

Ryan Marks
The 2016 CALS Summer Graduate Fellow was Ryan Marks. Marks used the fellowship to work on his project entitled, "Drop the Subject: Ranting and Inappropriation in Contemporary American Literature."

Robert Birdwell
The 2015 CALS Summer Graduate Fellow was Robert Birdwell for his dissertation, The Radical Novel: Utopian and Scientific.

Tyler Roeger
The 2014 CALS Summer Graduate Fellow was Tyler Roeger. Roeger's dissertation project is entitled, The Gothic Goes to Town: Reading the Gothic City in Nineteenth-Century American Literature.

Jason Maxwell
Jason Maxwell, a Ph.D. candidate, was the recipient of the 2013 CALS Summer Graduate Fellowship. Maxwell reflects on his fellowship:
I'm greatly indebted to CALS for awarding me its Summer Graduate Fellowship. My dissertation, "Professing No Longer," explores the numerous intersections between literary theory and composition studies since their concurrent rise in the 1960s. I argue that the emergence and success of these subdisciplines must be understood in terms of broader changes affecting higher education since the end of World War II. In addition to research and writing, I spent a portion of the summer condensing one of my chapters into an article, which is currently under review at the journal Postmodern Culture.

Katie Owens-Murphy
2012 was the first year CALS awarded a Summer Graduate Fellowship. Penn State graduate student Katie Owens-Murphy was the recipient for her dissertation project, "Lyrical Strategies: The Poetics of Fiction in the 20th Century American Novel."
On receiving this award, she writes,
I'm very grateful to CALS for the Summer Graduate Fellowship that enabled me to complete my dissertation ahead of schedule. My project, "Lyrical Strategies: The Poetics of the Twentieth-Century American Novel," takes a comparative approach to genre by examining twentieth-century American novels in relation to the lyric, rather than the narrative, tradition. I argue that many novelists from this period abandon the defining characteristics of narrative fiction for rhetorical aims that we typically associate with lyric poetry– structural repetition, rhythm, figurative meaning, dramatic personae, and apostrophe. Thanks to CALS, I was able to make good progress on this project over the summer and I completed it just in time to look for jobs in the fall.