Banned/Band Together: The 2014 Marathon Read

The third annual Penn State Marathon Read was held on September 25, 2014. CALS undergraduate intern Carter Clabaugh provides a personal reflection on attending the event for the first time.
As night approached, the industrial globe lights around the perimeter of the tent burned brighter. When my name was called, I walked up to the stand. On top of the podium sat a small lamp that illuminated an open copy of The Handmaid's Tale by Margaret Atwood. I stumbled over the words as I hurtled through the first few paragraphs, but I soon slowed down and found myself being pulled into the storyline. I was nervous about reading a book notorious for its controversial language and subject matter, but I kept going, my right pointer finger tracing over each line, developing different voices for the various characters, pausing when the handmaid, Offred, or the Commander needed an emotional break. Before I knew it, my time was up. I handed the book to the next reader and fell back into my seat, wishing for a few more minutes. I later found out that many of my peers had similar reactions, their nerves settling as they kept on reading, each one silently encouraged by the community before them. And this is what we ultimately created out of the words that we cast from the pages into the air: community.
The third annual Penn State Marathon Read, co-sponsored by the Center for American Literary Studies, began on Thursday, September 25 at noon on a small patch of grass in front of the Pattee and Paterno Libraries. Started in 2011 to reinforce our university's pride in its academics, the Marathon Read now involves volunteers from around campus taking turns reading from a single book for five-minute intervals over a 24-hour period. This year is the first in which more than one book has been chosen, and the three selections—Margaret Atwood's The Handmaid's Tale, Ray Bradbury's Fahrenheit 451, and Aldous Huxley's Brave New World—were chosen to correspond with Banned Books Week. Both The Handmaid's Tale and Fahrenheit 451 have been frequently challenged in U.S. high school reading curricula, and Brave New World has been banned not only in the U.S. but also in Ireland and Poland. The event organizers chose the theme of Banned Books because so much censorship today often goes unrecognized (such as internet search engines that block certain results). Penn State Comparative Literature Professor Jonathan Abel pointed out that censorship in any form can threaten the reading community, and this year's topic emphasized the community's commitment to spreading literature beyond safe or comfortable boundaries.
Some students came to the 2014 Marathon Read because they felt strongly about the political importance of reading banned books in a public space. Freshman Graphic Design major Turner Blashford read on Thursday as a requirement for his English class but came back on Friday morning to read Huxley's Brave New World, a personal favorite. "I think it's a good thing to read banned books and to contemplate why they are banned, and to spread awareness of censorship," he said. Junior Skyler Vasallo agreed with this sentiment. "I think censorship in any form is ridiculous. It's super important to say we can't censor art…it's distasteful. We must be able to reach this edge and go past it." Many students in attendance believed that this community read was not only an entertaining event, but also a necessary one. Our community benefits from hearing challenging works of art, and by deciding for ourselves how to proceed with our own reading and writing practices.
As is traditional for the Marathon Read, even more people came not because of its theme but because they simply love the act of reading. Lauren Davis arrived at 8:00 p.m. on Thursday for a full night of listening, eager for an event designed for people who aren't "cookie cutter college students." That Lauren felt comfortable enough with the atmosphere to spend the night armed with a pillow, blankets, and a steaming cup of coffee in her pajamas, listening with her peers, is a testament to the event's accessibility and warmth year after year. German instructor Juliane Schicker had her entire class read aloud in German, explaining how it would be entertaining and beneficial for her students' language skills. She also added that she simply loved reading. "I could read all night long. I love impersonating people…trying to form their characters."
This year's event emphasized multilingual readings, and performances in Arabic, French, Chinese, German, and Spanish often drew the loudest applause. I believe this not only reflects an appreciation for the beauty of different intonations, but also the importance of the spoken word. It brings us back to nighttime stories read to us out loud by our parents, who first gave us the gift of literary synesthesia; not only could we see the words on a page, we could hear the voices of their people, and then we could see their faces, live in their worlds. In a generation that is becoming increasingly digitalized, it is remarkable to have a public space on campus where we come together to listen to each other and support each other. And when we read works that have been suppressed, it makes us brave enough to create them too. This is an event where people from all backgrounds, from different nations all over the world, are free to read, to re-create and interpret literature that defies the norms, and through this process, a community is created.
Freshman Xin Wei arrived Friday morning to read Brave New World in her first language, Chinese. Afterwards, she asked me why the audience would want to stay for readings in languages they did not understand. "It brings us all back to those moments when we first knew we loved this…to read out loud," I told her. "Thank you!" she said. "I love your explanation! That means a lot to me." She hugged me and then returned to her seat, just in time for the next reading.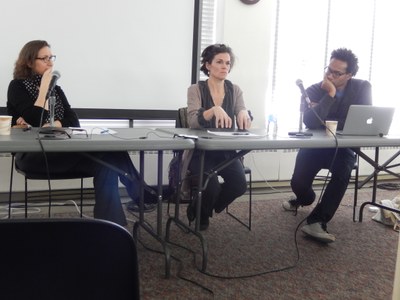 Large audiences packed the Marathon Read on Thursday afternoon.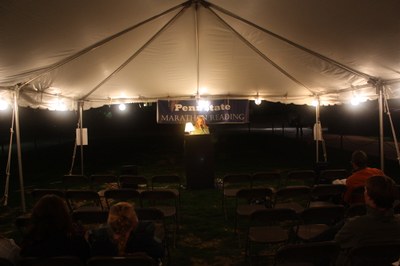 The Handmaid's Tale