Congratulations to 2013 Writing Contest Winners!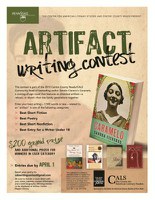 Congratulations to the winners of the Centre County Reads / Center for American Literary Studies 2013 Artifact Writing Contest!
This contest is part of the 2013 Centre County Reads/CALS Community Read of bestselling author Sandra Cisneros's Caramelo, a coming-of-age novel that features an inherited artifact—a rebozo, or shawl—that ties family generations together.
The winners are:
Grand Prize: Rebecca Kuensting, "Fang Swings"
Kuensting is currently finishing up her MFA at Penn State, and is writing her thesis in fiction. After she graduates in May, she hopes to pursue writing as a profession. Her entry concerns the ways we create personal artifacts - how ordinary objects become sacred when we start to consider them parts of ourselves.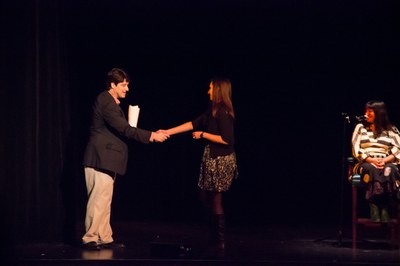 Poetry: Julie Johnson, "Gutterman's Clogs: Hardwood and Leather"
A native of Arizona, Johnson is currently a graduate student in Penn State's creative writing program, and will complete her Master of Fine Arts degree in May. In addition to history, her work focuses on the natural world, place, and collective memory.
Fiction: Melissa Michal Slocum, "Down There"
Melissa Michal Slocum is of Seneca descent. She is currently working on her Master's in literature at The Pennsylvania State University. She loves helping students find that they too can write. Michal has work appearing in The Florida Review.
Non-fiction: Ryan Richins, "Numismatics"
Richins moved to Pennsylvania from his hometown of Salt Lake City, UT, to pursue an MFA in creative writing at Penn State.
Under-18: Pratiti Roy, "Silk Stories"
Roy is a junior at State College Area High School. She's won second place in a local Holocaust poetry contest, first place for her 9/11 essay for the State College Choral Society, and two Gold Keys in the Scholastic Art and Writing Awards. She's been published in Acclivity and The Town & Gown. She's also proud of her Bengali heritage, and she loves saris, even though she still hasn't quite gotten the hang of wearing one by herself!
Thanks to all the entrants! We look forward to reading more fabulous work by local writers next year!