ENGL 111: A Course of Action for the English Degree

"The Possibilities of English" course at Penn State helps students answer the inevitable question—"What are you going to do with a degree in English?"—by featuring alumni speakers who have used theirs to find fulfilling and exciting careers. After graduating from Penn State in 2007, Julie Devaney Hogan held jobs at The Make-A-Wish Foundation, NBC Universal, and Deloitte Touche Tohmatsu before landing her current position as Global Director of Account Management and Consulting at Hubspot, a Boston-based company that develops inbound marketing software. Though her duties and roles varied at each organization, for Hogan, each new opportunity reaffirmed the versatile value of her Penn State English major. Accordingly, when Hogan spoke to the class of forty undergraduates enrolled in ENGL 111 this past fall, she enumerated the arsenal of skills English students are equipped with, including creative thinking and problem solving, organizing thoughts and ideas, technical writing, and the ability to respond productively to feedback. "You are the master of the thesis statement," Hogan reminded the students. "English majors are familiar with the economy of language; they are articulate and get to the point."
Insightful, practical advice like Hogan's is at the heart of ENGL 111's design. Since the course was first conceived by the CALS Board of Visitors and then English Department Head Robin Schulze in 2007, ENGL 111 has been actively responding to a growing need in the humanities to demonstrate possible outcomes for Penn State English graduates. The course, among the first of its kind at colleges and universities nation-wide, shows students the enormous—and for some skeptics, surprising—value of the English major as they prepare to tackle an increasingly competitive job market. CALS Director Sean Goudie, instructor of ENGL 111 for the past several years, regularly fields questions from colleagues around the nation who are interested in adopting the course for their college or university. "Such enthusiasm for the course even beyond Penn State is proof-positive of how necessary this unique course is," Goudie states.
How exactly does ENGL 111 accomplish its ambitious mission in a single semester? Goudie invites both Penn State English faculty and successful alumni to speak with the class about how to maximize their degrees and translate their strengths into fulfilling careers. During each visit, students are encouraged to ask questions and engage the speakers. The course's capstone assignment is the "personal strategic plan," a comprehensive assignment in which students realistically envision their own futures. They do so first by producing two lists: one indicating their skills and experiences, and another listing their educational and career goals. They then write an essay that integrates the two lists into a comprehensive narrative. The assignment is designed to help students have a clear action plan as they prepare to go on the job market, according to Goudie.
For alumni, speaking to current students is the perfect opportunity to contribute their time and resources to the Penn State community. Terry Deal (Class of 1993), a senior production editor at Random House LLC applauded the course's ability to provide crucial advice and direction: "I think a class like this, without being threatening, reminds you that you're working toward something [and] provides context and reminds students to think about the future." Similarly, Mike Dell'Aquila (Class of 2004) provided the class with tangible examples of how he applies the skills he gained from the English major to the dynamic expectations and duties of his current job. He works as senior copywriter at Recyclebank, a nonprofit startup website that rewards eco-friendly businesses. Dell'Aquila advised the students, "Companies you never thought would need social media now have a presence, because they realized the importance of telling their story—which means they need storytellers in-house to tell that story." Indeed, English majors are uniquely positioned to become those storytellers, and "The Possibilities of English" course creates the platform for alumni like Dell'Aquila to share their "real-world" professional experiences.
For the students, the class also provides a forum to envision how their experiences as an English major at Penn State will contribute to their careers after graduation. Inspired by Dell'Aquila's presentation, one student told Goudie after class, "Ten years from now I want to be Mike Dell'Aquila, standing in front of ENGL 111 sharing my experiences and wisdom with the next generation of Penn State English majors." The strength of the Penn State alumni network was similarly felt during Anne Riley's visit. A former State College Area High School teacher, Riley (Class of 1964) is a Trustee Emerita and former President of the Penn State Alumni Association. When asked what her motivation for giving back to Penn State was, Riley responded, "Because Penn State gave so much to me! My education, my teaching, my friends, my social life, and my cultural life." Riley's enthusiasm for the university was contagious. Luis Villafane, a junior double majoring in English and music, reflected that Riley's presentation to ENGL 111 was especially reassuring to him. "Anne Riley reaffirmed my decision to become an English major and gave me the confidence to follow through."
The speakers in "Possibilities of English" range in age, professional experience, and field of work. Some of the careers represented this past semester included information development, copywriting, law, entertainment, art curation, education, marketing, and publishing. Levi Opsatnic, a senior English major with minors in business and comparative literature, remarked, "I was told that there would be several guest speakers, but I had no idea there would be the variety that Professor Goudie provided our class." Indeed, the course has already created returns on their investment for several students. Sam Tavares, a senior majoring in film/video and minoring in English, signed up for the course hopeful that it would provide him with an "opportunity to network with Penn State graduates." His expectations were more than met when he landed a videography internship with WPSU with the help of Liz Jenkins, the English internship coordinator and a visiting speaker, who recognized his unique interest in screenwriting.
Goudie notes that it is fitting that the Director of CALS serves as the instructor of ENGL 111, as CALS and the class share the goal of promoting the lasting value of reading, studying, and writing about literature. "By sponsoring the course, CALS and Penn State English are innovating once more and creating a mutually enabling and ennobling set of experiences for past and present Penn State English majors. The course honors how the skills Penn State students acquire in the English major have been, and will continue to be, at the center of their personal and professional lives," Goudie says. To this end, ENGL 111 will continue to develop in the future. One especially exciting idea, taken from a student's midterm evaluation this past semester, is to incorporate field trips to the work places of some of the alumni guest presenters into the course. By evolving in these ways, "The Possibilities of English" will continue to help English majors navigate their undergraduate degrees. Likewise, it will point them toward stimulating and satisfying careers after graduation armed not only with the major's marketability in mind, but also a realistic confidence in "the vast, supportive, and inspiring network of successful Penn State English alumni who," Goudie observes, "are the course's true instructors."
Some photos from the Fall 2013 class: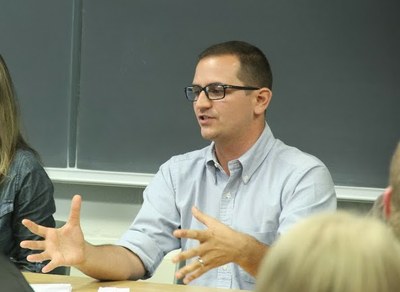 Mike Dell'Aquila discusses how the skills he learned from his English major allow him to uniquely contribute to his position at RecycleBank.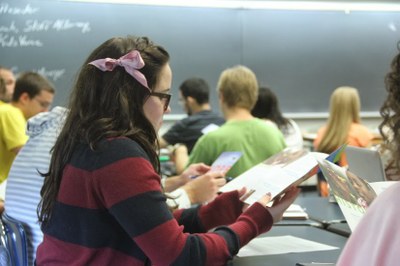 An ENGL 111 student peruses a pamphlet distributed by Susan Abramowich, Staff Attorney at KidsVoice, a child advocacy organization in Pittsburgh.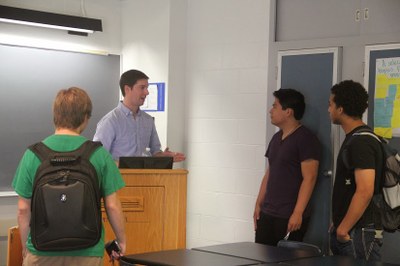 Jon Rider describes managing work-life balance at his job as Assistant Curator at Art in General in New York City.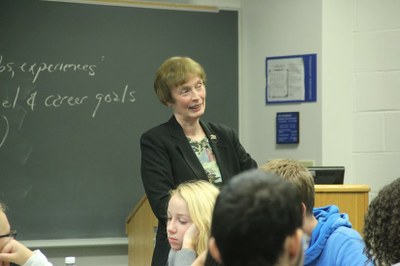 Anne Riley listens patiently to a student's questions about changes at Penn State since her undergraduate years.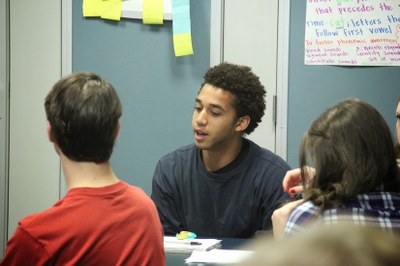 PSU senior Sam Tavares participates in a mock interview during the class's final meeting.
***
The author of this story, Hannah Burks, is the 2013-2014 CALS undergraduate intern and was a student in the Fall 2013 ENGL 111 class.