As part of the Center for American Literary Studies's commitment to public reading, CALS proudly partners with the Centre County Library system to sponsor a joint CALS/Centre County Reads community read annually. Information about each year's book choice and events can be found in the links below.
Shared texts constitute a key form of community building. Whether readers agree or disagree about the interpretation of a given text, the act of discussing a text, offering cogent arguments about a text, and negotiating what a text might mean brings them together.
For 2022, the Centre County Reads/CALS Community Read features Robin Wall Kimmerer and her book Braiding Sweetgrass: Indigenous Wisdom, Scientific Knowledge, and the Teachings of Plants. Our programming this year will explore the role of indigenous epistemology in securing a more sustainable, reciprocal relationship to the environment, especially in the context of an exploitative Western capitalist system that has accelerated climate change and devalued, if not outright effaced, indigenous ways of knowing and being. A roundtable discussion and writing contest organized by CALS will precede a lecture by Kimmerer herself as part of PSU's Department of Landscape Architecture Bracken Lecture Series, held via Zoom on March 2. Details for these and other events will be posted below as they are determined. Be sure to check out the Centre County Reads website for additional info. All events are free and open to the public.
For an in-depth review of this year's programming, read undergraduate intern Phoebe's Cykosky's recap of the events.
Launch of the "Sustaining Stories" Writing Contest
All entries due February 21, 2022
This contest is part of the 2022 Centre County Reads/CALS Community Read of Robin Wall Kimmerer's Braiding Sweetgrass: Indigenous Wisdom, Scientific Knowledge, and the Teachings of Plants, in which Kimmerer argues that the recuperation of indigenous knowledge and ways of living is necessary to sustain the long-term health of our environment. Rather than exploiting the land as a resource, which has contributed to wide-scale environmental degradation, we must instead cultivate a reciprocal relationship to the land we depend on. Essential to this project of mutual sustainability, Kimmerer suggests, are stories that upend our human-centered approach to nature as an inactive object at our disposal.
In the spirit of this reorientation, enter your best example of writing that centers nature as an active subject, a teacher of sustainability rather than an object of appropriation. Submit your piece of 7,500 words or less for competition in one of the following categories: Best Short Fiction, Best Nonfiction, Best Poetry, and Best Entry for a Writer under 18. $300 Grand Prize Winner and additional prizes for winners in each category. Please send entries to cals@psu.edu and include a cover letter with your name, address, contact information, a brief biography, and contest category. Winning entries will be displayed at Schlow Centre Region Library and on the CALS website.
Congratulations to all of our contest winners! Read the winning entries below.
Grand Prize: Talley V. Kayser, "Self-Portrait As Unlike a Horseshoe Crab"
Short Fiction: Tiffany Godley, "The Perpetrator, The Bystander, The Earth"
Non-fiction: Grace DePaull, "The Mountains Will Be Here, Always"
Poetry: Nicole Meek, "All Dying Slowly"
Under 18: Ayda Bayly, "Little Bird"
Tuesday Book Club
Tuesday, January 18, 5:30-6:30 p.m. | Schlow Library Zoom

"Native Americans of Central Pennsylvania" with Bruce Teeple
Saturday, January 22, 10-11:30 p.m. | Zoom (registration required)
Scholarship over the last fifty years has revealed some fascinating insights into the Native People of Central Pennsylvania and their increasingly disastrous relations with Europeans. This program will incorporate some of that new material to clear up any misperceptions and provide a fuller view of the social, historical, and political realities they all faced. Join us for a presentation on these issues by Bruce Teeple, a writer, speaker, and local historian who currently serves as president of the Union County Historical Society; as a judge and on the State Advisory Board of the National History Day in Pennsylvania competition; as Volunteer Coordinator of the Penn State Native American Powwow; and as an instructor for Penn State's Osher Lifelong Learning Institute.
CALS Roundtable: "'Carlisle In Reverse': Returning to a Sustainable Future"
Wednesday, February 9, 4-5 p.m. EST | Zoom (registration required)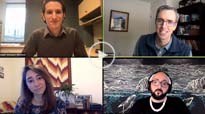 In Braiding Sweetgrass: Indigenous Wisdom, Scientific Knowledge, and the Teachings of Plants, Robin Wall Kimmerer argues for the necessity of recuperating indigenous epistemologies in order to ensure a more sustainable and fulfilling human existence. A member of the Citizen Potawatomi Nation and Distinguished Teaching Professor of Environmental Biology at the State University of New York, Kimmerer seeks to counter state-sponsored attempts to erase indigenous culture, such as those typified by institutions like the Carlisle Indian Industrial School. Operating for nearly forty years in Pennsylvania, the Carlisle School engaged in the forced enrollment of indigenous children, subjecting them to an assimilationist curriculum under hazardous, and sometimes fatal, living conditions. Against this legacy of erasure, Kimmerer foregrounds the need for a counter education that would reverse the centuries-long effects of Western cultural hegemony. In this roundtable discussion, three panelists will suggest how such a reversal can be implemented and the possibilities and limitations of our, in Kimmerer's words, "becoming indigenous."
Featured Panelists:
Craig Santos Perez, Associate Professor of English, University of Hawaii at Mona. An indigenous Chamoru from Guam, Perez has co-edited five anthologies and authored five books of poetry and the monograph Navigating CHamoru Poetry: Indigeneity, Aesthetics, and Decolonization (University of Arizona Press, 2022). He is an affiliate faculty with the Center for Pacific Islands Studies and the Indigenous Politics Program.
Abby Goode, Assistant Professor of English, Plymouth State University (NH). Goode teaches courses in American literature, critical theory, food studies, environmental humanities, and writing and sustainability. She is the author of Agrotopias: An American Literary History of Sustainability (forthcoming from The University of North Carolina Press, 2022).
Erik B. Foley, Director of the Center for the Business of Sustainability and Instructor in Management and Organization, Smeal College of Business, Penn State. Foley teaches, consults, speaks, and leads workshops on the role business can play in advancing social justice and environmental conservation. He serves on the Board of Directors of ClearWater Conservancy, the Network for Business Sustainability Centres Committee, and the Centre County Solid Waste Advisory Committee.
Moderator:
Joe Glinbizzi, Graduate Student in English and Visual Studies, Penn State 
Following the panelists' opening statements there will be ample time for questions and answer with the audience.
**For more on the legacy of the Carlisle Indian Industrial School, see undergraduate intern Phoebe Cykosky's story exploring the Carlisle Indian School Digital Resource Center!**
Family Storytime
Saturday, February 12, 11 a.m. | Holt Memorial Library, Philipsburg
Well-Read Book Club
Wednesday, February 23, 7-8 p.m. | Schlow Library, Downsbrough Community Room
Virtual Lecture byRobin Wall Kimmerer:
"The Fortress, the River and the Garden"
Wednesday, March 2, 6pm 
Join us and our partners—including The Department of Landscape Architecture, The Arboretum at Penn State, and The Sustainability Institute—for a Bracken Lecture Series event and the culmination of the annual one book, one community read. In this talk, Kimmerer will examine the relationship between three metaphors for types of knowledge in application to the landscape. The fortress is the metaphor for the dominance of western science and its virtual erasure of Indigenous knowledge; the river refers to Indigenous models of autonomy and coexistence between western and Indigenous knowledge; and the garden examines the potential for a productive symbiosis between western and Indigenous knowledges which could grow together in complementarity. 
Book Club Friday, March 11, 11 a.m. | Centre County Library & Historical Museum Zoom