"Unprecedented": A CALS Webinar Series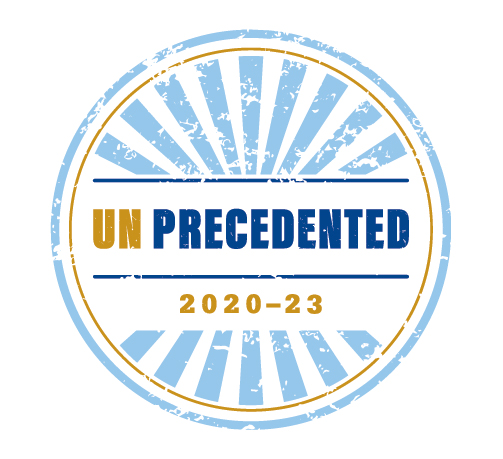 "Unprecedented" is a word employed frequently by media, government officials, and lay persons alike to describe the phenomena surrounding the COVID-19 pandemic and its effects. Inspired by recent events and the rhetoric used to account for them, the "Unprecedented" series of 1-hour webinars will feature presentations and discussion by leading scholars, writers, and activists focused on better and less well known developments in American literature and culture (and American literary and cultural studies) that might be, and in some cases have been, described as "unprecedented."
April 21, 2023 | 12:00 pm
Click here to register for this webinar, the 14th in the CALS "Unprecedented" series.
Labor disputes, body politics, racial injustice: professional and collegiate athletics are not mere fun and games, but microcosms of American sociopolitical life—rich texts well-suited for the kinds of literary and cultural analysis fostered by English departments. With the humanities under constant threat of defunding (if not total elimination), might English departments turn to the sports industry, which generates upwards of $70 billion annually in the United States alone, as an area of academic and creative study? Nearly half a million students participate in NCAA athletics, and many millions more turn out for (or tune in to) various sporting events. English departments are well-positioned to appeal to these students' interests while encouraging deeper and more critical engagement with the politics and ethics of sport. This webinar will explore the field of sports studies and, following the example set by adjacent disciplines like media studies and history, consider how English departments might integrate sports studies to reimagine and broaden the scope of their programming.
Panelists
Grant Farred, Professor of Literatures in English, Cornell University. Grant Farred is the author of, most recently, The Zelensky Method (2022), Only A Black Athlete Can Save Us Now (2022), and An Essay for Ezra: Racial Terror in America (2021).
Rowan Ricardo Phillips, Distinguished Professor of English, Stony Brook University. Rowan Ricardo Phillips is poetry editor of The New Republic and a consultant for The National Baseball Hall of Fame and Museum. He has been the recipient of a Whiting Award, a Guggenheim Fellowship, the Anisfield-Wolf Book Award for Poetry, the Nicolás Guillén Outstanding Book Award, and the PEN/ESPN Award for Literary Sportswriting, among others. He is currently writing a book on Black baseball (forthcoming from FSG).
Michelle M. Sikes, Assistant Professor of Kinesiology, African Studies, and History, Penn State. Michelle M. Sikes is an executive committee member of the Center for the Study of Sport in Society at Penn State. She is the author of Kenya's Running Women: A History (forthcoming 2023) and has coedited several volumes on African and sports history, including Sport and Apartheid South Africa: Histories of Politics, Power, and Protest (2022), The Politics of Historical Memory and Commemoration in Africa (2022), and Women's Sport in Africa (2015). A former professional runner, Sikes represented the US at the 2007 World Track and Field Championships in the 5000 meters and won an NCAA Division I championship at the same distance.
Moderator:
Jess Rafalko, Graduate Student, Department of English, Penn State.
February 17, 2023 | 12:00 pm
Over the past decade, Twitter has offered an integral community space and online knowledge commons to humanities researchers. The relationships emerging from Twitter hashtags like #AcademicTwitter, #AltAc, and #PhDChat have produced new scholarly collaborations, crowdsourced bibliographies, collective syllabi, and more. Tweets have become a valuable source of humanities data, prompting exciting new work on the possibilities of digital storytelling, or "Twitteratures." But the increasing use of Twitter as a research hub has also brought significant risks, only exacerbated by Elon Musk's recent takeover of the company. What must change (and is changing) about academic Twitter communities? Is academic Twitter worth saving, or should we seek a new online forum, like Mastodon? Whatever or wherever our future virtual research community may be, how might we better ensure that we are prioritizing and protecting the sovereign knowledge(s) of Black, Indigenous, disabled, and LGBTQIA2S+ scholars, among others?
Panelists:
Raven Lloyd, Assistant Professor of African and African-American Studies and Film and Media Studies, Washington University in St. Louis. Raven Lloyd is the author of Reshaping Digital Black Resistance (forthcoming from University of California Press).
Ashley Caranto Morford, Assistant Professor of Writing and Literature, Department of Liberal Arts, Pennsylvania Academy of the Fine Arts. With Jeffrey Ansloos and David Gaertner, Ashley Caranto Morford is co-editor of #NativeTwitter: Indigenous Networks of Relation and Resistance (forthcoming from Wilfrid Laurier University Press).
Julie Park, Paterno Family Librarian for Literature and Affiliate Professor of English, Penn State. Julie Park is the author of The Self and It (Stanford University Press, 2010) and My Dark Room (forthcoming from University of Chicago Press). Her current book project, Writing's Maker, considers the multimedia forms of life-writing in the eighteenth century.
Moderator:
Grace King, Graduate Student, Department of English, Penn State.
Please view the webinar here.